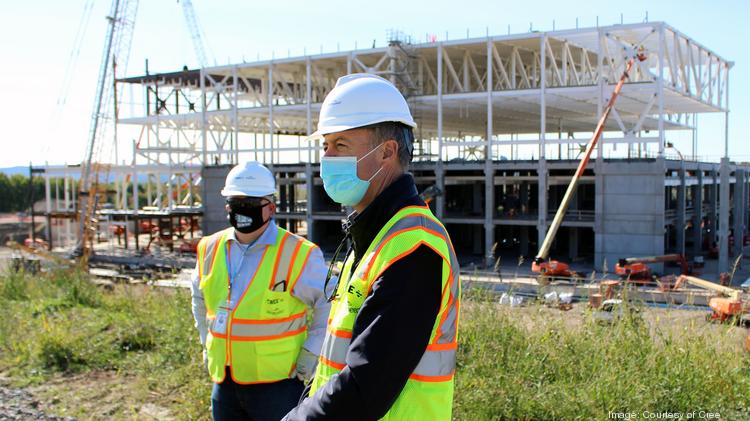 Cree Inc., the North Carolina semiconductor manufacturer, said construction of its new $1 billion factory near Utica is moving forward. Cree CEO Gregg Lowe visited the site last week — about a year after the state announced the massive deal.
"There is a structure, there's five floors built right now and everything's going according to schedule, earth moving and construction. It's pretty easy to be socially distanced because that's kind of the nature of it," Lowe said during a call with the Business Review Monday. "We had to change some protocols and so forth, but basically we were following those protocols and everything seems to be going well, safety record at the site is great."
Construction has moved along despite the pandemic, and Cree (Nasdaq: CREE) said it is preparing for the placement of the final steel beam of the main fab building in the coming months. Structural work for the administrative building continues, and in some parts of the main fab, interior work has begun. Exyte U.S. (formerly M+W Group) is the general contractor on the project.
Cree will be able to start moving tools into the cleanroom space by summer 2021. And the factory is on track to start production of its first silicon carbide wafers in January 2022. Silicon carbide chips are seen as an emerging alternative to silicon used in power semiconductors to reduce the charging time and increase the range of electric vehicles, and can be used in solar inverters and 5G infrastructure.
"We're on schedule and we will be going into production in 2022," Lowe said. "In fact, I was just on a Teams meeting with a German customer of ours this morning, and we showed some pictures of the factory and how it's going up and everything, and so they're really excited about it. It'll be the world's largest silicon carbide factory."
Lowe said the factory is a $1 billion bet that the electric vehicle market will take off over the next decade, pointing to companies like Lucid Motors— which is introducing a vehicle to compete with Tesla. He said many of Cree's customers will be ramping up their production right as the Utica factory goes online in 2022.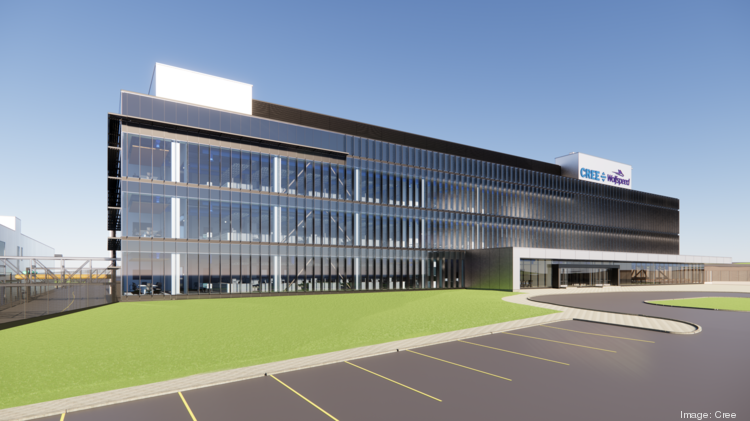 Lowe said they are getting to the point of construction where you can see the structure from parts of downtown Utica.
"You can see the building and everyone can see it's a very real thing now," Lowe said. "It's no longer just a piece of earth."
Over the next eight years, Cree is expected to employ at least 614 people at the facility. The company has already started hiring and has about 40 employees between Albany and Utica. Some work has been underway at SUNY Polytechnic Institute in Albany on a pilot production line.
Cree's total project costs are estimated to be more than $1 billion, including $183 million for design and construction, $300 million for facility fit out, and $522 million for machinery and equipment, including some Cree already owns, according to Empire State Development board documents.
The state plans to reimburse Cree with a $500 million grant, covering about half the project's cost, as Cree meets certain goals. It is the largest project on the Business Review's State Incentives List this year.